Market insights you can use, delivered in a single bite.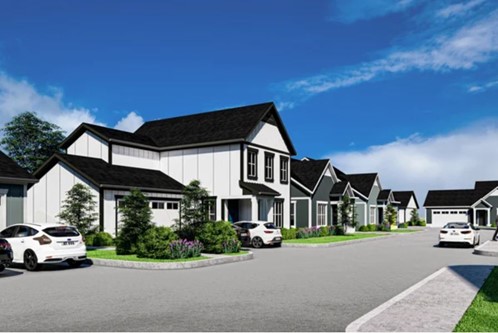 Single Family Rental Market
Since the advent of FHA loans and other financing tools geared toward first-time home buyers, the pattern has been the same: young apartment-dwelling adults preparing for, or just starting, families of their own give up their rented apartments to purchase single-family homes offering less density, more space, and outdoor amenities. But for the millennial generation, this pattern has been disrupted by delays in family formation, high levels of student debt, skyrocketing home prices, and, most recently, pandemic uncertainty.
Increasingly, however, there is a new option for these home seekers. While single family rental (SFR) housing (that is, detached single family homes as well as duplexes, townhomes, and other "single address" attached forms) is hardly new, what is new is the level of organization and formalization that has entered this market segment and begun to attract burgeoning interest from many sides, including tenant prospects, residential developers, and institutional investors. With this has come a new generation of so-called "purpose-built" SFR communities – that is, planned developments offering consistent design and branding, centralized leasing, and high-quality units in neighborhood-style developments complete with sought after community amenities. In short, all the trappings of a high caliber for-sale development, but consisting entirely of single family homes for rent.
Need, suitability, and convenience are primary drivers of this growing market segment. Older millennials who need more space as they start families but who aren't yet ready or able to purchase a home represent a major target market. As do downsizing baby boomers, who like the flexibility of maintenance-free rental living – especially when single level homeplans are an option – but who do not want to move into a multifamily apartment building.
The pandemic has also had an impact – both directly and indirectly – on the SFR segment, simultaneously spurring a desire for more space (for home officing and schooling, as well as simply to put more space between oneself and one's neighbors) and depleting stocks of existing homes while driving the costs of new home construction (and new home prices) higher. And now, particularly with mortgage rates on the rise and continued tightness in the for-sale market, the SFR segment is poised to become an increasingly popular housing option.
Nationally, SFR homes represent just five percent of all single-family home starts. However, that percentage has been trending upward since the Great Recession. The segment is also attracting increasing interest from developers and institutional investors such as Toll Brothers, Crescent Communities, Blackstone, and JLL.
The major national homebuilder, D.R. Horton, has also invested heavily in the SFR market and, according to a recent CoStar article, is aggressively ramping up its rental business – both in the multifamily and SFR segments. According to David Auld, the company's CEO, the ramp-up will continue. "Our goal is to deliver more homes because the demand is there," he said. "When we look at the rental platform, the ability to scale that up and the segment that's going to create, it's going to be a real business all on its own."
In the Chicago market, purpose-built SFR communities are still a rarity, but developer investment is growing along with consumer interest. Several rental townhome developments have recently been built. And just last month, Wisconsin-based Continental Properties broke ground on the 149-unit Avanterra Wolf's Crossing detached single family home development in Oswego.
---